WGA Unveils Enhanced Online Job Platform to Help TV/Film Writers Keep Connected with Showrunners, Producers and Executives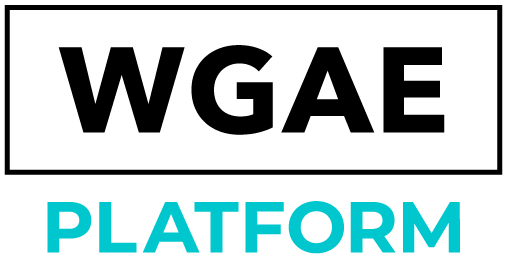 New York and Los Angeles – The Writers Guild of America (WGA) today debuted an enhanced online staffing and development platform to connect writers directly with showrunners, producers, and executives. The revamped WGA Platform features upgraded capabilities and an improved user experience to help writers find jobs.  
The Platform features writer, producer, and executive profile pages; in-platform messaging; a television staffing submission system; a board for posting and submitting to Open Writing Assignments; and lists of spec and pilot ideas. The Platform also provides unprecedented access to jobs for new talent and writers from underrepresented communities. 
"We started working on these enhancements well before the Covid-19 pandemic turned our industry upside down," said WGAW Board Member Luvh Rakhe. "The upgraded Platform will be a resource for members to stay connected even as we must physically separate. Down the road, we hope this contributes to the industry's recovery because the work of writers will be critical to that."   
The WGA Platform initially launched in April 2019 and has more than 9,700 writer profiles. Thirteen hundred executives and producers have created accounts, and more than 200 series showrunners have used the platform's Staffing Submission System to post job openings, resulting in more than 12,000 submissions from writers. In addition, 140 Open Writing Assignments (OWAs) have been posted, generating 2,100 submissions from writers.    
Executives, producers, and showrunners can discover new talent and ideas, or seek out a specific writer. Executives and producers can post OWAs, review television and feature spec/pilot ideas, and use the new dynamic list tool, Grids, to keep track of the talent they like. The WGA Platform also provides valuable tools to franchised agents and managers, allowing them to discover new talent by filtering for writer characteristics like film/tv, or genre or to help them procure new work for their clients. 
For more on the WGA Platform, visit wgaplatform.org/explore. 
The Writers Guild of America East (WGAE) and the Writers Guild of America West (WGAW) are labor unions representing writers in motion pictures, television, cable, digital media, and broadcast news.  The Guilds negotiate and administer contracts that protect the creative and economic rights of their members; conduct programs, seminars, and events on issues of interest to writers; and present writers' views to various bodies of government. For more information on the Writers Guild of America, East, visit www.wgaeast.org. For more information on the Writers Guild of America, West, visit www.wga.org. 
 ###
Back to top