WGAE Election Call For Nominations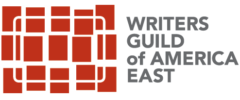 The Annual Meeting and Council Election will be held at 5pm on Thursday, September 20, 2018. Voting online and by mail will begin at 12am on Thursday, August 23, 2018. Ten council seats will expire this year: 7 Freelance and 3 Staff.
You will find a nomination form and directions for the election procedure here. Any current member in good standing may nominate candidates for the Council.
The terms for newly elected Council members will run for two years beginning September 21, 2018. Any current member in good standing for one year preceding the election is qualified to run.
The following current Council members' terms do not expire this year, so they should not be nominated for Council seats:
Freelance: Bonnie Datt, Susan Kim, Courtney Simon, David Simon, Amy Sohn, Tracey Scott Wilson
Staff: Kim Kelly, Hamilton Nolan, Phil Pilato
You may return your nomination form by scanning and emailing it to dweissman@wgaeast.org OR by faxing it to 212.582.1909. It must be received no later than May 31, 2018. You must print and sign your name on the form in order for it to be valid.
Please find a list of Frequently Asked Questions at wgaeast.org/electionfaq. If you have questions about any election procedures, please call Dana Weissman at 212.767.7835.
###
Back to top