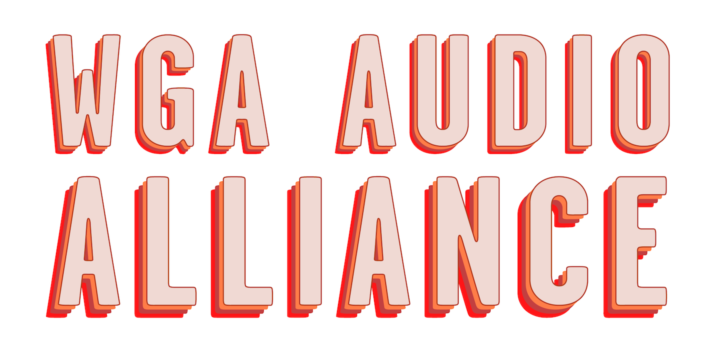 Find us online
If you are already involved in the WGA Audio Alliance
Join the WGA Audio Alliance Discord
Take the Audio Industry Pay Rate Survey
Follow the WGA Audio Alliance on Twitter
Follow the WGA Audio Alliance on Tumblr
If you are not involved with the WGA Audio Alliance
If you're interested in learning more about the WGA Audio Alliance or would like to get involved in our work, fill out our informational form to get in touch.
Information and reference materials
Radio Drama Alliance Interview
The WGA Audio Alliance was featured in a special episode of Radio Drama Revival, one of the internet's longest running anthology audio drama shows, with the goal of showcasing the diversity and vitality of modern audio fiction. Members of the Audio Alliance and WGA East Executive Director Lowell Peterson discuss how the Alliance helps to provide resources for audio fiction creators.
Listen to our conversation on Radio Drama Revival.
"The OnWriting Guide to Crafting Scripted Podcasts," parts 1-3
As part of our efforts to explore the industry, we've released "The OnWriting Guide to Crafting Scripted Podcasts" – a two-part podcast project that explores the industry of scripted podcasts.
In Part One, we hear from LIMETOWN co-creator Zack Akers, HOMECOMING producer Alicia Van Couvering, and Writers Guild of America, East executive director Lowell Peterson about the industry's business side: what the market looks like, how to break in, and how to protect yourself once you're there.
Listen to the OnWriting Guide, Part One.
In Part Two, Zack and Alicia – along with writers Danielle Trussoni (CRYPTO-Z) and River Donaghey (AMERICAN AFTERLIFE) – take a deep dive into the creative side of the industry – from recruiting talent, to necessary skillsets, to creative satisfactions, and beyond.
Listen to the OnWriting Guide, Part Two.
In Part Three, Geri is joined by three guests—Lissette Alvarez, Matt Klinman, and Lowell Peterson—to talk about the WGA Audio Alliance and the group's aims to establish and improve the standards and rights for writers in the scripted podcast industry.
Listen to the OnWriting Guide, Part Three.
Industry resources
Podcast Taxonomy Whitepaper
Podcast Taxonomy is an international, multidisciplinary collaborative standard for recognizing roles and credits in podcast production. It consists of a list of roles and credits, and their description, developed with three goals in mind: 
To further professionalize the podcast industry by adopting a standard set of roles in podcast creation.
To help with job search and creation in podcasting, giving networks and independent creators a common list of known roles and job descriptions.
To ensure the taxonomy of podcast roles is inclusive, representing people of all backgrounds, including women, people of color, and marginalized voices.
Their Podcast Taxonomy Whitepaper is a living, breathing document, intended to be routinely updated via a convention of partners throughout podcasting known as the Podcast Taxonomy Consortium.
Podcast Taxonomy Whitepaper (external website)
Who owns who in podcasting?
In order to keep track of the ever-changing landscape of podcast companies, mergers, and acquisitions, Evo Terra and Anne Baird have compiled a comprehensive and regularly updated guide.
Who Owns Who in Podcasting? (external website)
Read about the current state of the scripted podcast industry – and the podcast industry in general
Additional reading
On Fictional/"Scripted" Podcasts
How to Audio Drama: a weekly column at Discover Pods that provides in depth, step-by-step processes on audio fiction creation, as well as a once-monthly advice column.
Vulture: "The 10 Essential Fiction Podcasts That Shaped the Genre"
The Washington Post: "Fiction podcasts are on the rise and better than ever. These are the ones to listen to."
The New York Times: "11 Fiction Podcasts Worth a Listen"
On the Podcast Market
AdAge: "Revenues from podcast advertising are projected to hit $1 billion by 2021"
The Verge: "The podcast industry expected to create $1 billion in annual revenue by 2021"
Studies and Reports
Interactive Advertising Bureau (IAB): "2018 Full-Year Podcast Ad Revenue Study"
Nielsen: "How Podcast Advertising Measures Up"
MusicOomph: Summary of 2019 Podcast Statistics [Infographic]
Back to top